Pro Heroes
Yu mercilessly stole his fame by taking down a villain in her debut and he was left in a slump as she was praised. Despite this, they were seen working together in U.S.J. Arc and stopped a villain and saving people.[1]
Later on, they work together along with Death Arms as security guards during U.A.'s Sports Festival, where he questions whether she has any sense of shame or pride when she successfully uses her body to be able to acquire an order of takoyaki for free from a vendor.[2]
After the Denki Kaminari vs. Ibara Shiozaki fight, Mount Lady teases that Kamui has a Quirk similar to Ibara Shiozaki's. At one point, she felt bad for stealing his glory though her tone implied she was being sarcastic.
During the raid on the League of Villains hideout, (in the anime) the two rode together in a car. Kamui Woods later rescued the unconscious Mt. Lady and tells her that she did well, showing he now respects and cares for her.[3]
It was mentioned in the Remedial Course Arc, that they have formed a team with Edgeshot after the raid on the League of Villains hideout
By the time of the Hero Billboard Chart JP, their close association led to rumors about them being romantically involved. Yu was speaking to reporters and told them that being on the same team as Kamui gave her a lot of encouragement which causes one of the reporters to ask if the reports of an alleged love affair were true. She smiles and declines to comment. [4]
Besides Kamui Woods, she is also seen associating with Death Arms. During U.A.'s Sports Festival, she was annoyed by his constant smoking while he was seen questioning if she has any sense of shame or pride when she successfully uses her body to be able to acquire an order of takoyaki for free from a vendor.
During the Pro Hero Arc, Mt. Lady cried and ran to Death Arms for comfort about Kamui being ranked in the top ten. This showed they get along well.[4]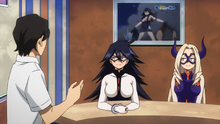 Yu does not appear to be on good terms with her, as they got into an argument after Mt. Lady made comments on her liking attention. This further escalated with Mt. Lady admitted to looking up but poked at her age, resulting in the two fighting in a televised interview.[5]
By the time of the Endeavor Agency Arc, the pair are shown to have at least learn to cooperate better, as they both took part in interviewing Class 1-A.
Mt. Lady has managed to implant fear in the heart of Minoru, to the point that she is probably the only female character that Minoru doesn't have perverted thoughts about.
Minoru decided to choose Mt. Lady for the Hero Agency Internships, due to his lecherous and naughty personality.[6] Thinking that it would be all advantages, in the end Mt. Lady made Minoru her servant, cleaning up and doing other menial labor around her office while she lazed around,[7] although surely she forced him to do even worse tasks, since he returned to the U.A. Minoru has nothing but bad memories of his internship.[8]
That bad experience continues to affect him, and now hearing her name terrifies him. When Denki comments that she forms a team with Kamui Woods and Edgeshot, Minoru starts shivering.[9]
When they meet again, he is alarmed to see her and immediately points out that Mt. Lady is the most "showbiz" hero out there. Mt. Lady ignores his protests and encourages him and his class to try their best for the "Hero Interview Training".[10]
References
*Disclosure: Some of the links above are affiliate links, meaning, at no additional cost to you, Fandom will earn a commission if you click through and make a purchase. Community content is available under
CC-BY-SA
unless otherwise noted.