Our Brawl (ぼくらの大乱戦, Bokura no Dairansen?) is the twenty-third volume of the My Hero Academia series.
Cover and Volume Illustration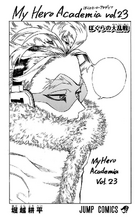 Author's Notes
Volume Summary
The final match of the battle training between Class A and Class B continues. Zapped by Shinso's mind control, Midoriya enters a fugue state where he meets one of the former users of One For All. What powerful Quirks have yet to be unlocked? Midoriya will surely need the full potential of One For All someday, but in the meantime, a new enemy—the Meta Liberation Army—begins to make its moves.
Chapters
Volume Corrections
Extra Pages
Next Volume Quote
Trivia
Community content is available under
CC-BY-SA
unless otherwise noted.