『 The Crusty Madman 』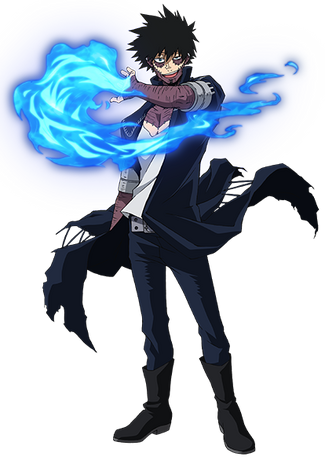 — Introduction About Me—
Hello folks, I'm WitheredFreddy1993 here. I'm one of the Content Moderators on this site so feel free to ask me any of your concerns or questions! I'm also active on Discord too. Also, just call me Freddy for short.
I became a fan of My Hero Academi ever since I saw Season 2 and the Pro Hero Arc (which introduces Spicy Hot Chicken), which amazed me on how well-developed the characters and plot were.
Over time, I grew to become accustomed to working on this Wikia site for approx 2 years and so far everything's looking great! I'm hoping for greater things to happen for this series!
— My Gallery of Favorites—
— Other Fandoms I'm Active In—
My Current Fandoms (Mains)

My Hero Academia
Kingdom Hearts
Jojo's Bizarre Adventure
Final Fantasy
</center>
— Other Facts About Me —
I've read everything that's current about the My Hero Academia Manga
Big fan of RPG and Platform Type Video Games.
Favorite Characters are Tomura Shigaraki and Dabi.
Huge fan of Action-Based Anime, especially Jojo's Bizarre Adventure.
Played almost every Kingdom Hearts game; up to DDD.
Addicted to listening to Japanese music, especially Vocaloid.
Favorite genre of music is J-Pop and Rock.
Very focused on my tasks to work on this Wikia
</center>
— My Gallery of Favorites—
Update Character Synopsis
Update Character Galleries
Add any new info on Characters
Finish Tomura/Dabi/Toga/Hawks synopsis pages for current arc.
Upload Images of Best Quality
Rewatch my favorite Anime to keep myself from boredom
Sleep, sleep, sleep.
Finish my Nintendo Switch Games
Trying to adjust my COVID-19 schedule
Meh, that's all folks.
*Disclosure: Some of the links above are affiliate links, meaning, at no additional cost to you, Fandom will earn a commission if you click through and make a purchase. Community content is available under
CC-BY-SA
unless otherwise noted.