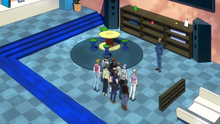 The sidekicks who work under Tsunagu at Genius Office have a great amount of respect for their boss and seem to believe whole heartedly in his ideology about outward appearance. They often compliment him for doing and saying various things.

Not much has been seen between them, but Gang Orca seems to have respect for Tsunagu's skill at reforming troubled children.
Tsunagu sees Mt. Lady as a rookie and finds her irritating. He believes she doesn't understand the difference between difficulty and importance. However, he was quick to rescue her from All For One's attack, while getting himself wounded.
They appear familiar with each other, as Hawks visited him after the Kamino Incident. It is implied Hawks was responsible for Tsunagu's disappearance.
Katsuki chose Tsunagu as a mentor for his internship, only to believe he chose wrong after Best Jeanist tried to change his appearance and behavior. Tsunagu was ultimately left frustrated when he failed to accomplish this. Tsunagu states that he doesn't like people like Katsuki.[1]
At the end of the internship, Katsuki considers his time with Jeanist to be worthless. However, Katsuki has been revealed to have taken Tsunagu's words about heroes and villains being vastly different to heart as he refused to join the League of Villains.[2]
They are enemies, as standard for heroes and villains. Tsunagu is terrified by the enormous power unleashed by All For One in their first encounter, when the villain defeated him and other heroes in a few seconds with a single but powerful attack. Still, he tries to fight back, but is easily countered and defeated by the villain. Despite this, All For One praises Tsunagu for saving his partners lives from his initial attack, and recognizes his great skill and control over his Fiber Master, a Quirk that requires great creativity and experience to utilize to its full potential.[3]
It is later revealed the injuries Tsunagu received cost him a lung.
References
↑ My Hero Academia Manga and Anime: Chapter 48 and Episode 27.
↑ My Hero Academia Manga: Chapter 86.
↑ My Hero Academia Manga and Anime: Chapter 89 and Episode 48.
*Disclosure: Some of the links above are affiliate links, meaning, at no additional cost to you, Fandom will earn a commission if you click through and make a purchase. Community content is available under
CC-BY-SA
unless otherwise noted.