Template:Character Infobox/Civilian Touya Todoroki (轟 燈矢 Todoroki Tōya?) is the eldest son of Enji and Rei Todoroki.[1]
Appearance
Personality
History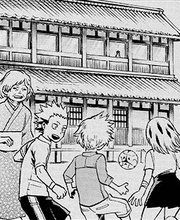 Deemed failures by their father, Touya and his siblings, Fuyumi and Natsuo, were raised separately from Shoto.[2] Touya seemingly has additional complications to his current relationship with the rest of the Todoroki family.[1]
References
↑ 1.0 1.1 My Hero Academia Manga: Chapter 192 (p. 10).
↑ My Hero Academia Manga and Anime: Chapter 39 (p. 12) and Episode 23.