Rules
Hello and welcome to Hardening's talk page! Whilst you are here, we would like you to take a quick look at some rules. Failure to follow these rules may result in a block. You have been warned.
This space is specifically for discussing changes to the article. For general discussion or questions regarding the subject, head to the Forum or create a Blog post.
Stay civil and always remember to sign your comments with ~~~~.
Put new text under old text and always start a new subject with a header. Click here to start a new topic.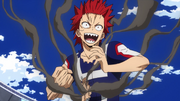 DESBOY96
22:53, July 29, 2017 (UTC)
I don't see the need. Keep the one we have. The hands being at the forefront make the Quirk more notable at a first glance. Also, the smoke of that one is a bit distracting. A picture showing Eijiro actually resisting an attack with no problem would be more useful.
A lot of the Quirk images we have are already pretty good. No need to change unless the drawing quality is significantly better, like the one you did for Navel Laser. KingCannon (talk) 03:24, July 30, 2017 (UTC)
*Disclosure: Some of the links above are affiliate links, meaning, at no additional cost to you, Fandom will earn a commission if you click through and make a purchase. Community content is available under
CC-BY-SA
unless otherwise noted.