Season 4
is confirmed for October 12, 2019!
Heavy SPOILERS ahead, READ with caution! Please see our Rules & Policies here.
---
Welcome to My Hero Academia Wiki!
A fan-made wiki dedicated to the My Hero Academia series created by Kohei Horikoshi. We encourage users to help make this wiki even better. Check out the above links to get an idea of how wiki editing works. We are striving to turn this place into a reliable source of information for the series. Help us by creating or editing any of our articles! We're currently editing over 1,854 articles since June 26, 2014.

Story
Characters
MORE CHARACTERS
Getting Started
We have a lot of content on this wiki. With your help, we can make it even better.
Anonymous editing has been disabled for this wiki. To contribute, you must login or sign up for a free account. After that, you can get started and help out by editing typos, work on article stubs or leave feedback on talk pages. You may also consider creating wanted pages.
If you need help, you can refer to the Help pages, FANDOM University or ask a Hero.
Are you an experienced editor? Check out the these projects to see which areas of the wiki are in need of help:
Wiki Departments are projects that consist of a group of users dedicated to gathering and assisting articles circled around a single concept or topic. Consider joining one to get started!
Stubs are articles that are of unusually small size and need to be expanded more. Help make stubs into full-fledged articles by adding more information.
Upcoming Releases
Polls
What new character are you most excited to see in Season 4 of the Anime?
Who is your favorite member of the Meta Liberation Army?
Q1: My Hero Academia celebrated its 5th anniversary recently. What year did you get into My Hero Academia??
Q2: Who's to blame for the Shimura family tragedy?
Latest Blogs
Affiliates
Heroes and Villains Chat!
Featured Media
Latest Episode
My Hero Academia Season 3 - Episode 25: Unrivaled
---
Mirio Togata teaches Class 1-A about Hero Work-Studies in a unique fashion. When he challenges the entire class by himself, Mirio shows why he's unrivaled as a member of the Big 3. Meanwhile, the League of Villains makes contact with the mysterious Overhaul. (Continue reading here)
Latest Chapters
Spoilers!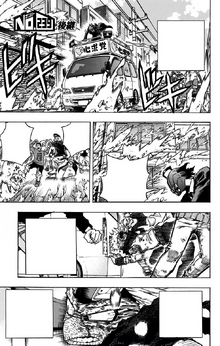 My Villain Academia - Chapter 239: Successor
---
Tomura Shigaraki unleashes an ultimate attack that crumbles the entire city around him. Gigantomachia, Spinner, and Trumpet can only watch as Re-Destro comes face to face with the Angel of Death who has achieved true freedom. (Continue reading here)
My Hero Academia: Vigilantes - Chapter 58: Heading Home
---
The battle of the Sky Egg is over. Captain Celebrity says goodbye to Japan before heading home. Makoto announces that she will be studying abroad while continuing to be Captain Celebrity's manager. While all ends well, it is only a prelude for what is to come. (Continue reading here)
Latest Volumes
Recent Releases
August 6, 2019
August 9, 2019
August 12, 2019
August 18th, 2019
All past news can be found here.
External Links
Community content is available under
CC-BY-SA
unless otherwise noted.