Heavy SPOILERS ahead, READ with caution! Please see our Rules & Policies here.
---
Welcome to My Hero Academia Wiki!
A fan-made wiki dedicated to the My Hero Academia series created by Kohei Horikoshi. We encourage users to help make this wiki even better. Check out the above links to get an idea of how wiki editing works. We are striving to turn this place into a reliable source of information for the series. Help us by creating or editing any of our articles! We're currently editing over 2,089 articles since June 26, 2014.

Story
Characters
MORE CHARACTERS
Getting Started
We have a lot of content on this wiki. With your help, we can make it even better.
Anonymous editing has been disabled for this wiki. To contribute, you must login or sign up for a free account. After that, you can get started and help out by editing typos, work on article stubs or leave feedback on talk pages. You may also consider creating wanted pages.
If you need help, you can refer to the Help pages, FANDOM University or ask a Hero.
Before editing, please make sure that you review our Manual of Style and all of our policies. We have a large userbase of dedicated users and have established systems to keep this wiki organized. Please do not disrupt our systems by violating our policies. If you wish to learn more about our style of organization, please feel free to visit our #wiki channel on Discord.
Are you an experienced editor? Check out these projects to see which areas of the wiki are in need of help:
Wiki Departments are projects that consist of a group of users dedicated to gathering and assisting articles circled around a single concept or topic. Consider joining one to get started!
Stubs are articles that are of unusually small size and need to be expanded more. Help make stubs into full-fledged articles by adding more information.
Upcoming Releases
Polls
What are you most excited about in the second cour of Season 4 of the Anime?
Who will be victorious in the Paranormal Liberation War?
Q1: Sir Nighteye has foreseen All Might's demise this year or the next. Will this prophecy come to pass?
Q2: Other than Overhaul, who is your favorite member of the Yakuza organization, the Shie Hassaikai?
Latest Blogs
Affiliates
Heroes and Villains Chat!
Featured Media
Latest Episode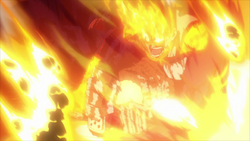 My Hero Academia Season 4 - Episode 25: His Start
---
Endeavor finally gets the chance to prove himself as the new Symbol of Peace with help from the Wing Hero Hawks! However, the two have to deal with a mysterious Nomu known as "High-End", who desires a challenge from the strongest heroes out there. This Nomu appears to be much more stronger than the previous Nomus we've seen, giving Endeavor a run for his money. Can Endeavor push beyond his limits to stop from this nefarious creature!? Find out in this epic clash...

(Continue reading here)
Latest Chapters
Spoilers!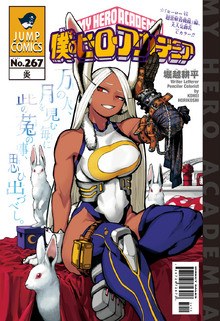 My Hero Academia - Chapter 267: Flames
---
Tsukuyomi thinks back to his internship with Hawks and asking the Pro Hero what his weakness is. Hawks answers that it is fire because his feathers burn up pretty easily. Tsukuyomi asked if he had any countermeasures... (Continue reading here)
Latest Volumes
News
December 4, 2019
December 20, 2019
February 4, 2020
February 26, 2020
March 4, 2020
All past news can be found here.
Future Releases
June 2, 2020
June 4, 2020
External Links
*Disclosure: Some of the links above are affiliate links, meaning, at no additional cost to you, Fandom will earn a commission if you click through and make a purchase. Community content is available under
CC-BY-SA
unless otherwise noted.