'Boku No Hero Academia' Profile: Mitsuki Bakugo
Our Katsuki... he's rash on everything he does, and most things come easy to him. During his whole life, people've made a fuss about him by praising him for every little thing he does... so I was so glad to hear what you had to say at that press conference. I was thinking that U.A. really understands our boy.

Mitsuki Bakugo

to

Shota Aizawa

in

"Home Visits"

Mitsuki Bakugo (爆豪光己, Bakugō Mitsuki?) is Katsuki Bakugo's mother and the wife of Masaru Bakugo.
Appearance
DOSZ HNALFNASFASANSXFIBNSXFIASFAIXFFXSABKIPB FAS BCFASCFBPASBC,FP,ASCBFPAYCBFIACF,BASPF
Gallery
Personality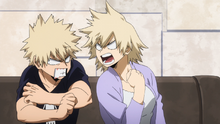 DFCSLJANFCFBNSUCFASCFSCFPSACFASNCPASBNFASCBHASFBAIHPSBNIPASHNCPVAISNSCNASCPINASCPIASNCPSACNASCPSCNAINASCAINSCNASCNPOASCNOSNPAXYFIASX,HPB,HFPASXFASHFPASXHUDPFISHNBAXDFUBHNAPUBXDFASUIPNBUXDFASUIPSBXDFAUIBDFFBCAYHCBGFDUSBGFHJUIBDASVFXDJUBVNADJAUHNBSVFBASCBDJASVFBNASVFJBNACVFHJUBNASFVPYHUCBNVVADPOASNJ[AUSHN AUNSVPOUNASOJUNASVPNASOVJINASDFJKNASVNPASVFNDASIVNASPVIDASVNDSAPVNSPOVNSNVPJSNSXAJCVSNIXV
*Disclosure: Some of the links above are affiliate links, meaning, at no additional cost to you, Fandom will earn a commission if you click through and make a purchase. Community content is available under
CC-BY-SA
unless otherwise noted.