Minoru admires Mezo for his octopus appearance and tall height. They also teamed up for the cavalry battle along with Tsuyu Asui. They were shown to work well as a team despite not advancing to the next round. During the fight between Izuku and Shoto in the Sports Festival tournament event, Mezo prevents Minoru from being blown away.
Mezo is on good terms with Fumikage. During the training camp, he and Fumikage were attacked by Moonfish. Mezo protected Fumikage but lost an arm in the process. Angered that Mezo sacrificed a limb just to save him, Fumikage (enraged by his incompetence and the influence of the night's darkness) lost control of Dark Shadow which caused him to harm Mezo. Mezo resolved to save Fumikage alongside Izuku which they eventually succeeded. Fumikage felt regret for harming Mezo and apologized to him. Mezo shows no ill will towards Fumikage, thus he and Fumikage are on good terms with each other. During the events of the I-Island Incident , they were seen taking a walk down a street alone together during the nightime, this implies they are close friends
Mezo and Izuku are on good terms and have respect for each other. Mezo saved Izuku twice during the school trip first from a rampaging Dark Shadow and then from Himiko Toga. Mezo trusts Izuku, as he was willing to lead the out of control Dark Shadow towards where Shoto and Katsuki were despite the danger it placed him in. Mezo also carried an injured Izuku throughout the attack during the training camp. Despite their efforts they failed to save Katsuki, resulting in Izuku breaking down. Along with Fumikage, Mezo tried to comfort Midoriya on their loss. Later he visited Izuku in the hospital with the rest of the class.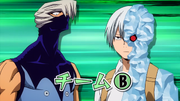 They are shown to be on good terms and work well together. They were partnered with each other during Battle Trial Arc. Mezo and Shoto along with Izuku worked together during the training camp in order to save Katsuki and Fumikage.
The two appear on good terms, and work well as a team. They were partnered up against Snipe during the final exams. They showed trust between each other as Shoji was willing to expose himself to Snipe in order for Toru to sneak behind and capture Snipe resulting in the pair passing the exam.
References
*Disclosure: Some of the links above are affiliate links, meaning, at no additional cost to you, Fandom will earn a commission if you click through and make a purchase. Community content is available under
CC-BY-SA
unless otherwise noted.