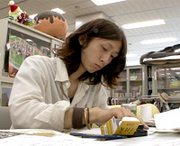 Kōhei Horikoshi (堀越 耕平, Horikoshi Kōhei), born November 20, 1986, is a Japanese manga artist known for creating the manga series of Boku no Hero Academia.
Biography
A mangaka from Aichi Prefecture, Kōhei Horikoshi had graduated from the Nagoya University of Arts. He was a former assistant for Yasuki Tanaka, creator and author of the manga series Hitomi no Catoblepas and Kagijin.
Horikoshi's favorite manga series include Naruto, One Piece, Akira, Tekkonkinkreet and Boys on the Run.
Works
Oneshots
Title
Issue
Pages
Anthology
Issue Number and Year
Release Date
Tenko
(テンコ, Tenko)
Akamaru Jump
Summer, 2007
Boku no Hero
(僕のヒーロー, My Hero)
Akamaru Jump
Winter, 2008
47
Shinka Rhapsody
(進化ラプソディ, Shinka rapusodi)
Akamaru Jump
Summer, 2008
Ōmagadoki Dōbutsuen
(逢魔ヶ刻動物園, Ōmagadoki Zoo)
Weekly Shōnen Jump
2, 2010
December 14, 2009
47
Uchū Shōnen Bulge
(宇宙少年バルジ, Space Shōnen Bulge)
Jump NEXT!
Summer, 2011
August 12, 2011
Serials
Title
Anthology
First Issue
Last Issue
Span
Chapters
Volumes
Ōmagadoki Dōbutsuen
(逢魔ヶ刻動物園, Ōmagadoki Zoo)
Weekly Shōnen Jump
32, 2010
July 12, 2010
19, 2011
April 18, 2011
37
5
Sensei no Bulge
(戦星のバルジ, Bulge of the Battle Star)
Weekly Shōnen Jump
25, 2012
May 21, 2012
41, 2012
September 10, 2012
16
2
Boku no Hero Academia
(僕のヒーローアカデミア, My Hero Academia)
Weekly Shōnen Jump
32, 2014
July 7, 2014
N/A
Ongoing
9
Mentors
Yasuki Tanaka (Hitomi no Catoblepas, Kagijin)
Assistants
Shingo Sasai and 6 other assistants to assist with the series creation.
Sketches
Gallery
Trivia
During November 2014, Kōhei asked his followers on Twitter to think of ideas for new Quirks and send them to him. He then goes on to say he might turn that Quirk into a real hero and announce it at Jump Fiesta 2015.
In the First Popularity Poll, Kōhei ranked 17th.
References
See also
*Disclosure: Some of the links above are affiliate links, meaning, at no additional cost to you, Fandom will earn a commission if you click through and make a purchase. Community content is available under
CC-BY-SA
unless otherwise noted.