Cremation is the unnamed Quirk possessed by Dabi.
Description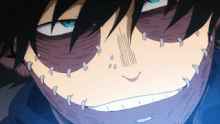 Like Hellflame, Dabi's Quirk grants him pyrokinetic abilities. Dabi's flames are blue in color, and he's capable of generating and manipulating them at will.
The user can ignite blue fire anywhere on their body with minimal effort or movement almost instantaneously. They can also combust anything they touch almost instantly, including robust minerals and living creatures alike. For example, by touching a single tree in The Beast's Forest, Dabi was able to set the majority of the forest ablaze, trapping everyone there in a ring of fire.[1]
The flames are extremely hot[2] and it is believed their temperature is higher than that of normal fire, which is signified by its blue color. Dabi's flames were hot enough to burn an entire group of villains into ash in mere seconds.[3] They're also quite bright, making them effective against Dark Shadow.[4]
Weaknesses
The major drawback of Dabi's ability is that his body can't handle the heat. Overusing his flames will cause his skin to swell, sizzle, and slowly burn over time. This prevents Dabi from fighting prolonged battles.[5]
Usage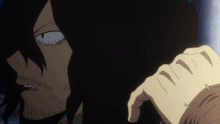 Dabi primarily uses his Quirk to fight from a distance and burn his enemies using fireballs and flamethrowers. He can also release a short burst of flames for roasting his targets at close range.[6] Dabi often relies on the brute force of his powerful Quirk to overwhelm his enemies. His fire blasts are powerful enough to collapse building walls[7] and were enough to completely repel Snatch's Quirk.[8]
Dabi also uses his Quirk tactfully, creating walls of fire to trap his targets within a fixed area or to propel himself in midair through the soles of his feet.[9][4] This Quirk also combos well with Compress, as anyone compressed along with some of Dabi's flames will burn to death.[8]
Because Dabi's flames tend to weaken his body with prolonged use, he is unable to release successive attacks for long. To counter this, he will often engage in rattling the enemy in order to buy himself some cooldown time. Additionally, Dabi has learned to take some heat off his attacks in order to reserve more power for himself for critical situations.[4]
Trivia
Although unofficial, "Cremation" is a popularly speculated name. It is drawn from Dabi's name, which is translated directly as "cremation".
References
Site Navigation
*Disclosure: Some of the links above are affiliate links, meaning, at no additional cost to you, Fandom will earn a commission if you click through and make a purchase. Community content is available under
CC-BY-SA
unless otherwise noted.