This article is about the Quirk. For the Quirk's user, see Chojuro Kon.
Chimera (キメラ, Kimera?)[1] is the Quirk used by Chojuro Kon.
Description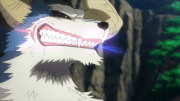 Chojuro's Quirk grants him the characteristics of various animals. He can also enlarge his animal traits to monstrous proportions, granting him a tremendous boost in strength and durability.[2]
Chojuro is also capable of expelling fire from his mouth; the fire can also be shot in the form of a large beam of energy.[2]
Trivia
This Quirk shares some similarities with Beast, as both involve transforming the user into a larger, much stronger animal form. Though unlike Beast, Chimera gives the user a wider range of abilities due to different animals encompassing the Quirk.
When Chojuro used the full power of this Quirk, his power and enhanced appearance are likened to that of Tamaki Amajiki when the latter uses his Manifest Quirk. In fact, Chimera is similar to the said Quirk as both powers grant multiple animal characteristics to the user. Unlike Manifest however, Chimera does't require a prerequisite to activate, as the animal aspects are triggered at will.
References
*Disclosure: Some of the links above are affiliate links, meaning, at no additional cost to you, Fandom will earn a commission if you click through and make a purchase. Community content is available under
CC-BY-SA
unless otherwise noted.